Pencil Drawing Supply Review
Updated: 06 Sep 2020

Intro
When starting out, the different types and brands of drawing materials can be confusing.
In this guide, we will explore most of the known types and brands to consider.
Disclosure: some links in this article are affiliate links, meaning, at no additional cost to you, I will earn a commission if you choose to make a purchase.
Supply & equipment categories:
Drawing Pencils Types
Standard Drawing Pencils
Drawing pencils come in varying brightness values when HB is the standard value.
The

H

value stands for

Hardness

and indicates how

hard

and

light

the pencil is.
The

B

value stands for

Blackness

and indicates how

soft

and

dark

the pencil is.
For example, a 3B pencil will be darker and softer than a 2B pencil.
Drawing pencils with H levels
Drawing pencils with B levels
The lighter grades will begin with the H values until HB and then, the B group for the dark levels.

Recommended Drawing Pencils Brands
MY TOP 3 CHOICES:
*My top choices are pencils that I use for ANY type of drawing or sketching.
Staedtler Mars Lumograph
Highly recommended, durable, high quality pencils suitable for ANY task. The pencil grade is clearly written on ALL sides.
I use the Staedtler for my commission work. They always deliver!

Staedtler Mars Lumograph
Castell 9000
Another top quality choice. Faber-Castell is the largest pencil manufacturer and one of the oldest.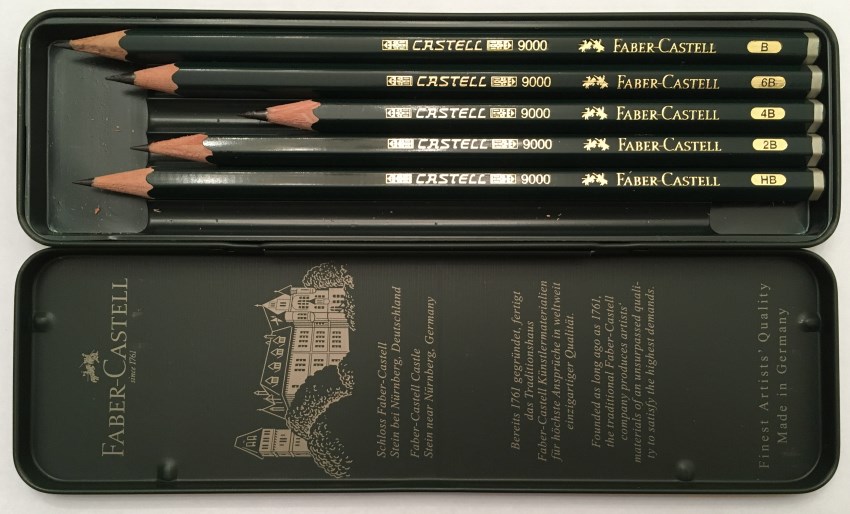 Faber-Castell 9000
Tombow MONO Drawing Pencils
Tombow pencils have a nice balance between precision and softness.
They are quite dark and their precision require a gentle touch. Experienced artists will enjoy these pencils as their main drawing pencils.
They arrive unsharpened.
They also exist as a set including the excellent MONO Zero eraser.

Tombow MONO Drawing Pencils
OTHER OPTIONS:
*These next pencil brands are all recommended. I use them for specific tasks though!
Mitsu-Bishi Hi-Uni
The Mitsu-Bishi are professional drawing pencils. They are quite smooth and easy to work with. Great for shading.
Being smooth, they require frequent sharpening in order to draw fine details.
They arrive unsharpened.

Mitsu-Bishi Hi-Uni
Faber-Castell Grip 2001
These are amazing pencils for sketching. They come with only 5 brightness values (2H, H, HB, B, 2B). Therefore, less idle for realistic drawing.
They are very lightweight, with an ergonomic structure and non-slip points. All of these make them great for sketching and writing for long periods of time.
Faber-Castell Grip 2001
Because they are super comfortable, I use them when I teach, for quick demonstrations.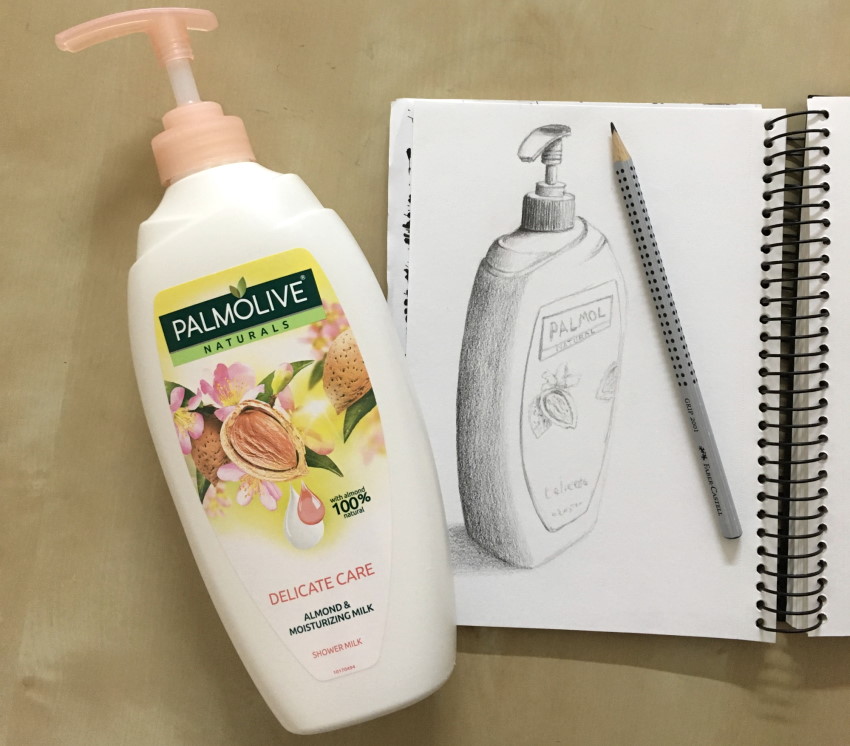 Sketch demo from direct observation
Koh-I-Noor 1900
The "1900" pencils are a fine option for drawing and sketching. Their "forgiving" marks will appeal to beginners.
They are smooth and quite on the bright side.

Koh-I-Noor 1900
Caran d'Ache Grafwood
Quality pencils yet pricey. Unique barrel color in accordance to the graphite grade.
Barrel is a bit thicker than regular pencils and might not fit in some sharpeners.
These pencils are VERY soft and therefore very gentle and in need of constant sharpening.
I use these pencils for sketching. Not for accurate realistic drawing.

Caran d'Ache Grafwood
Prismacolor Turquoise
These are a bit darker and harder than other brands.
I use them in a gentle way since they leave noticeable marks.
They arrive unsharpened.
Recommended for artists that can control the pressure while drawing.

Prismacolor Turquoise
Staedtler tradition
These pencils are great for drawing and sketching.
Unlike the Staedtler Mars Lumograph, the size is not written on all sides of the pencil, and they are not as smooth.

Staedtler tradition
Derwent Graphic
Good drawing pencils but quite soft and in need of constant sharpening.

Derwent Graphic
Lyra Rembrandt Art Design
Good pencils. Dark grades are not as dark as some other brands.

Lyra Rembrandt Art Design
Staedtler Mars Lumograph Black
Artist pencils which are intended for creating dark brightness values.

Staedtler Mars Lumograph Black
Regular graphite pencils will produce shiny results under a certain angle from the light. Mars Black, on the other hand, have a high proportion of carbon, and therefore produce a matt result, especially in darker grades.

Mars Black matt results
Tip:
Pencils with cylindrical body tend to roll on the work surface. A hexagonal pencil is a better choice for that reason.
Thick Drawing Pencils
Thick pencils (also called Jumbo) with a thick graphite bar are used for sketching or for filling large surfaces.
Thick drawing pencils
Thick graphite bar in the center
Graphite Sticks
A graphite rod or bar is a graphite stick with no wood coating.
Graphite sticks come in many shapes. Cylinder, rectangle-bar and pencil-shaped graphite rods are very common and are used for filling large areas quickly.
The degree of lightness or darkness of a graphite stick will determine the brightness value of the area it fills.
A graphite stick can be used to draw directly as with a pastel stick.
Artists who prefer not to get dirty while working can use a graphite stick coated with a thin layer of plastic.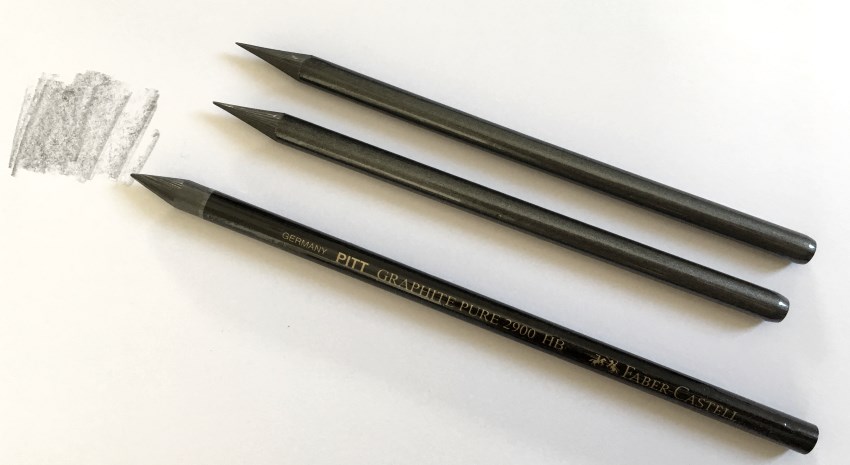 Graphite sticks
The advantage of graphite sticks is that they can be used both for details and for covering large areas.
Example: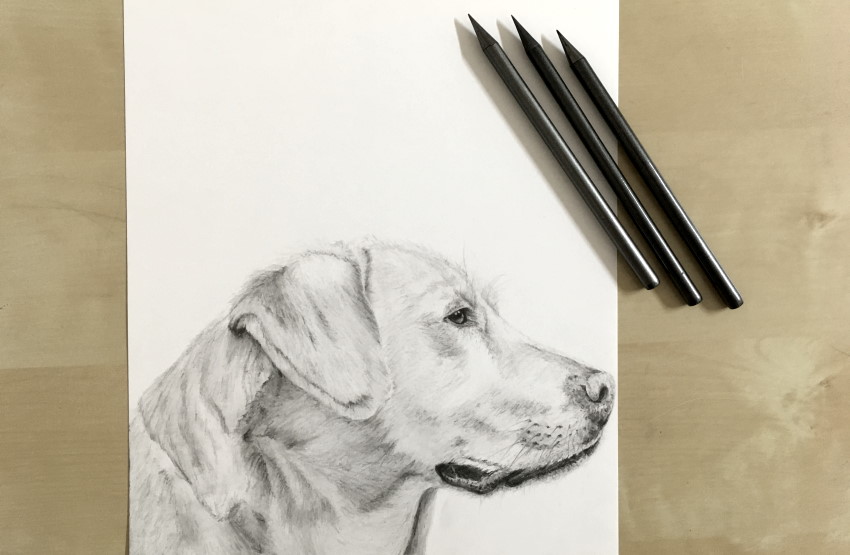 Dog drawing using graphite sticks
Mechanical Pencil
A mechanical pencil is a pencil that can be filled with graphite sticks that can be extended mechanically.
Mechanical pencils do not have to be sharpened.
Like a technical pens for drawing, a mechanical pencil produces lines of uniform thickness and is used, among other things, for technical drawing.
The mechanical pencil is suitable for the creation of small, precise details.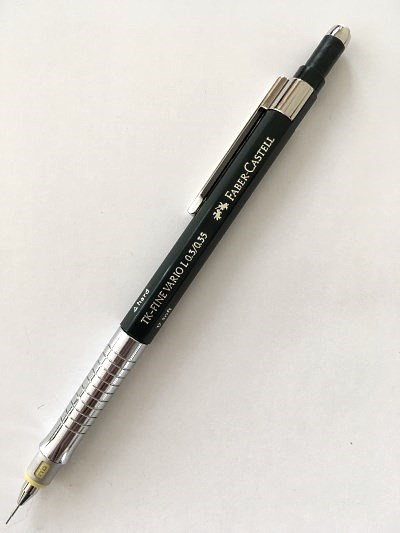 Mechanical pencil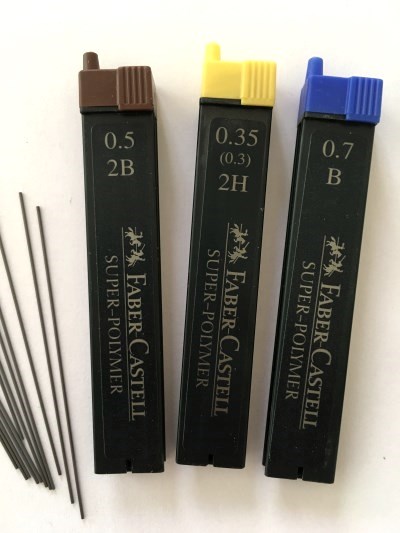 Graphite sticks for refill
Good to Know:
High quality mechanical pencils come with high quality eraser.
Due to the small size of the eraser, it can be used for creating fine and precise details such as hair.
To learn how to use mechanical pencils, visit my article on when, why and how to draw with a mechanical pencil.
How to Safely Store or Carry Pencils
I use a Derwent pencil case to carry my pencils and other drawing supply.
It is made of thick and strong fabric yet flexible enough not to damage the sharpened tip of the pencil.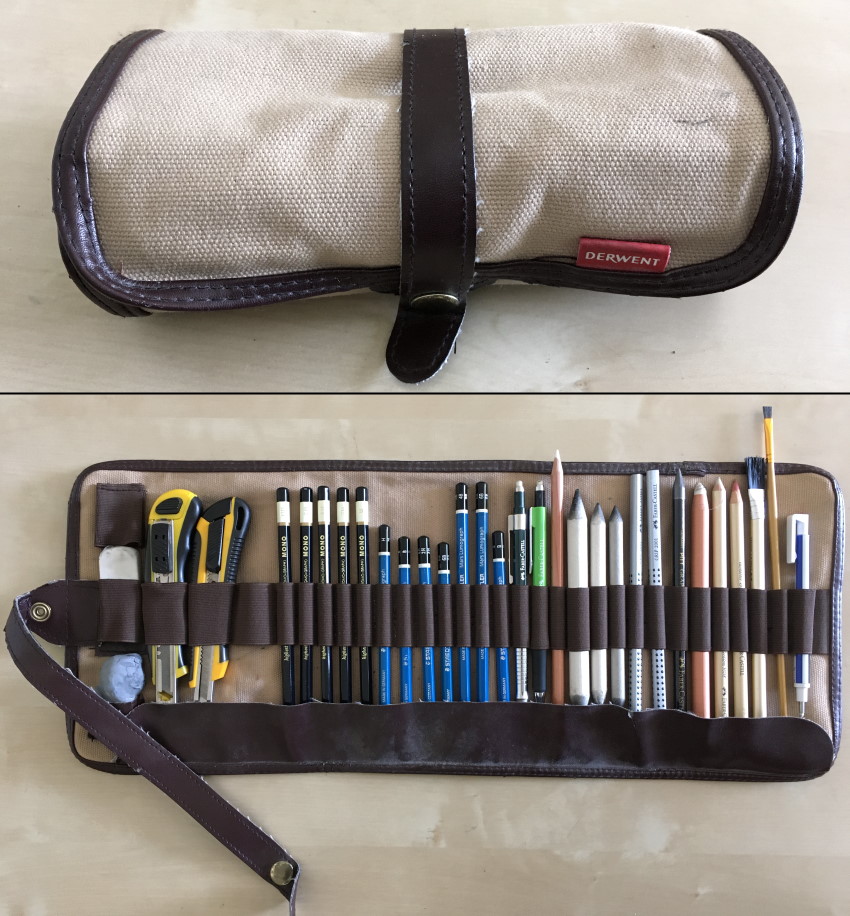 Many pencil brands provide a strong case when buying a set.
I keep these cases for storing my pencils.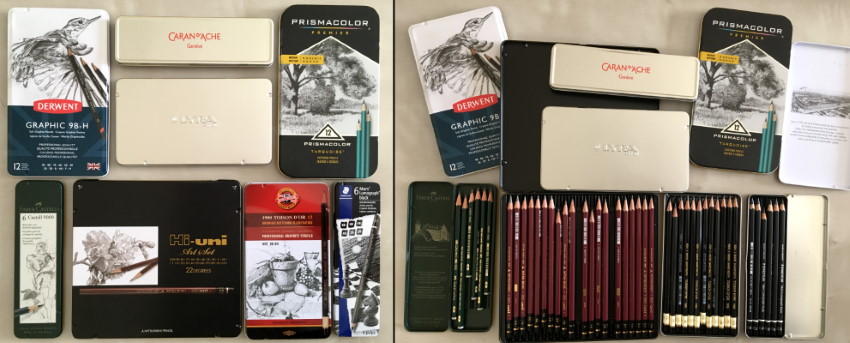 Erasers for Pencil Drawing
The advantage of a pencil, unlike other drawing and painting tools, is the ability to erase.
Eraser (also called a rubber) is used for erasing AND drawing.
Certain erasers can be used to change the brightness value of a surface or to create noticeable, bright details.
Gum Eraser
Gum eraser (also vinyl or plastic) is the standard eraser and is intended to erase mistakes.
This eraser leaves debris behind and is not intended to produce precise details.
A brush can be used to clean the eraser debris from the drawing surface.
My choice: STAEDTLER Mars plastic.
Gum, vinyl & plastic erasers
Keep in mind:
A hard gum eraser, by a quality brand, will erase better. That said, it could damage the drawing paper if you are not careful.
I use the Staedtler Mars plastic eraser because it is hard and therefore, superior for erasing.
When drawing in a gentle way, a more gentle gum eraser can be used which does not damage the paper. My favorite for that is the Tombow MONO plastic eraser.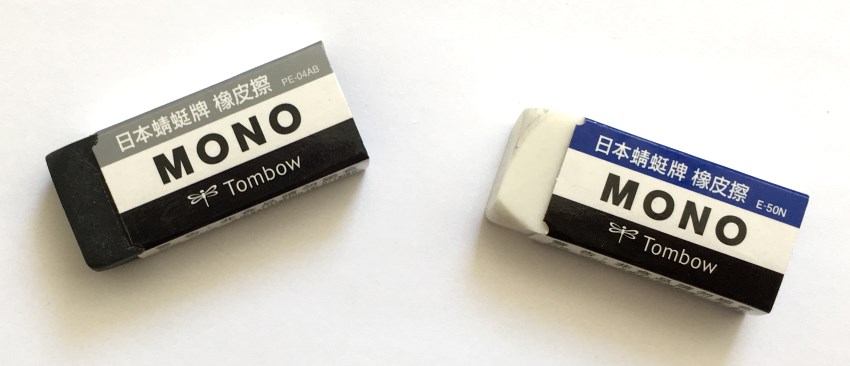 Tombow MONO plastic eraser
Kneaded Eraser
A kneaded eraser is designed to collect particles of graphite or charcoal by absorption.
This eraser does not wear down and does not leave residue like a regular eraser.
By gentle friction of the kneaded eraser on a drawing surface or gentle taps, it can increase the brightness value ​​of a particular area.
The kneaded eraser is flexible and can be made of shapes such as a dot or line. The harder the eraser is the more accurate textures it can create.
A kneaded Eraser is recommended for any type of pencil drawing art.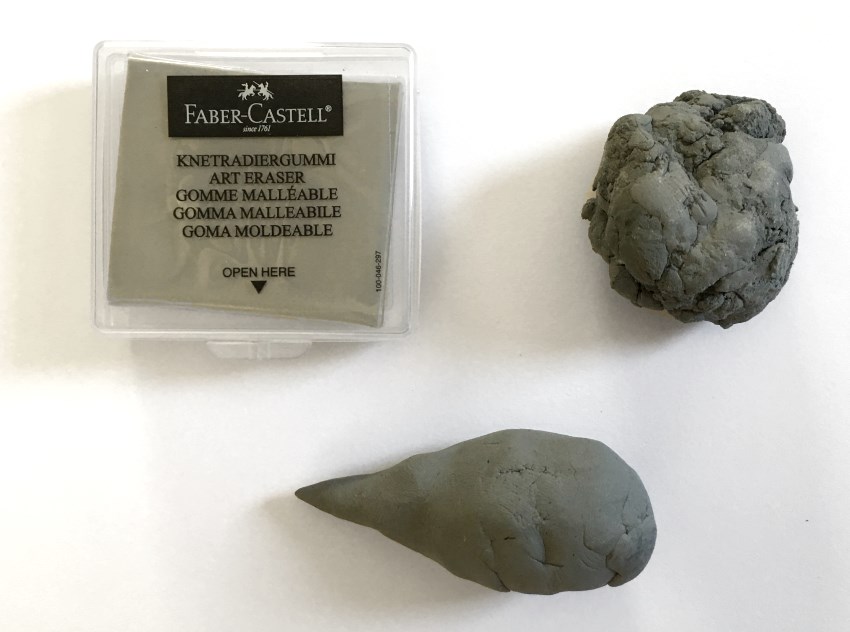 Kneaded erasers
Eraser Pencil
The purpose for erasers in the form of pencils is to enable the creation of small and precise details, or to erase small areas.
That said, these eraser pencils are usually not that effective!
In some brands, it is possible to sharpen the eraser with a sharpener, but it is sometimes recommended to use scissors or a knife to sharpen the eraser.
A pencil eraser with a brush is great for cleaning debris from the drawing surface.

Pencil erasers
Tombow MONO Zero
This little refillable eraser pen can make all the difference!
The Tombow MONO Zero eraser is superior to any other type of eraser when it comes to creating fine details, especially for drawing hair.
This eraser is a lot like erasers that come with quality mechanical pencils, only much smaller and therefore more precise.
Once you get used to it, especially when drawing realism, it is hard to do without.
Two tip types to choose from: round and rectangular.

Tombow MONO Zero
Drawing (erasing) the highlights with Tombow MONO Zero: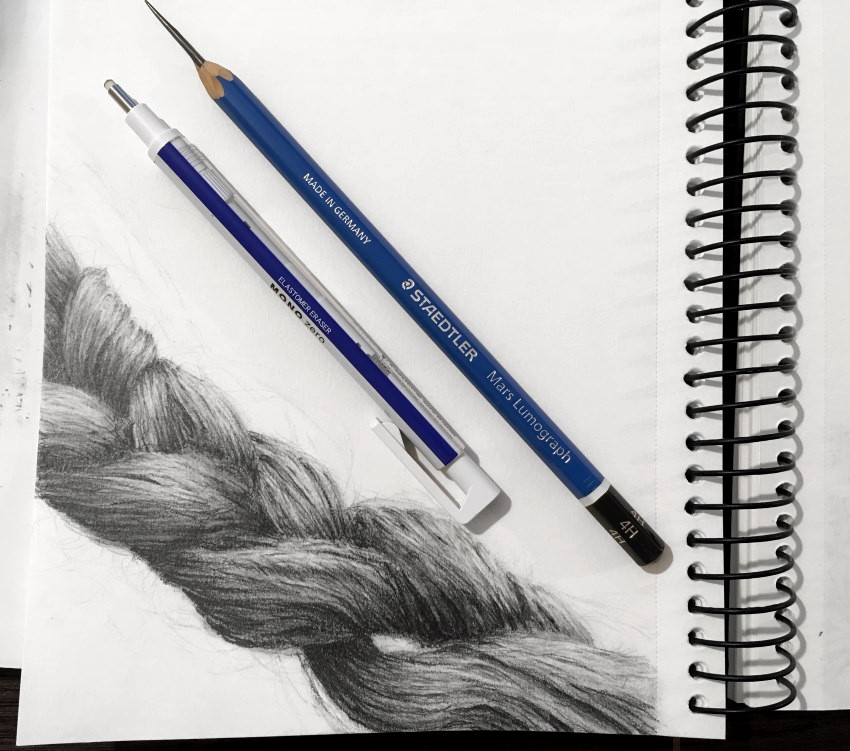 Braid with MONO Zero
How to Sharpen Pencils
Pencils can be sharpened with a regular pencil sharpener or an electric sharpener.
Another way to sharpen pencils is using a knife for a very sharp point. Knife sharpening gives better control and accuracy for some artists; it is a matter of personal preference.
Sharpening pencils with a knife takes time, create dirt and leaves wood and graphite waste in the work environment. Using a knife can lead to injury.
My favorite is a canister sharpener since it is efficient, clean and easy to use.
Regular & canister sharpeners
Utility knife for sharpening
Paper for Pencil Drawing
There is a wide range of paper for pencil drawing that includes:
Single sheets of paper
Pads of paper sheets
Notebooks and sketchbooks
A pad of paper is a collection of individual sheets of paper that can be torn off.
The characteristics of paper:
Size
Thickness
Roughness
Color
*The roughness level of a paper indicates how well it grabs the graphite particles.
Some recommended brands:
Canson
Canson is a French company for the production of quality paper and other art related products.
Canson 1557 is one of my favorite paper sheets for drawing realism or any style!
XL Bristol (yellow) is VERY smooth & extra white.
XL Drawing (green) is quite grainy and great for rough sketches.
XL Sketch (orange) is good for practice drawing and sketching. It is quite thin though.
Canson paper pads
The use of Canson XL Sketch for a quick portrait:
Boy portrait
Fabriano
Fabriano is a leading paper manufacturing company. In addition, the company is unique in that it uses renewable energy.
The company is named after the town of Fabriano, located in Italy. Fabriano is one of the first places in Europe to produce quality commercial paper, from the 13th century to the present day.
Eco-recycled paper
Single paper sheets
Winsor & Newton
Winsor & Newton is a British company that manufactures art equipment including paper for drawing and sketching.
Sketchbook is a book with smooth pages designed for drawing and sketching with pencil and used by artists as part of the creative process or for practicing.
Sketchbook
Paper sheets pad for drawing
Hahnemühle
Hahnemühle is a German paper manufacturing company and a world leader in the production of paper for inkjet printers. The company is known for the high quality of paper for drawing and sketching.
A Sketchbook with a spiral allows ripping or cutting a page for an unsuccessful sketch.
Sketchbook with a spiral
Hahnemühle paper pad
Arches
Arches is an established French company (1492) specializing in the production of high quality paper.
Arches paper is made of 100% cotton.
This paper is of a high quality, but also very delicate. Extensive use of an eraser can damage it.
White paper pad
Cream paper pad
Rulers
Rulers have a key role in many drawing styles. They are an important part of a drafter's drawing supplies.
Technical Drawing Rulers
When drawing in perspective, a ruler is essential for accuracy.
Regular rulers might cause bleeding with some technical pens. The solution is a ruler with an inking edge.
Inking edge means that at least one side of the ruler is a bit above the drawing surface.
My absolute favorite ruler for drawing in perspective is the Staedtler Mars 563 Aluminium Ruler.
It is of non-slip quality.
Staedtler Mars 563 Aluminium Ruler
Tip:
The Staedtler Mars 563 has a special structure for a firm grip.
I use its structure to hold my pen or pencil when I do other things and I do not want them to roll on the drawing surface.
French Curve
A French curve is a ruler with many curves.
It is used to draw smooth curves and for fashion design.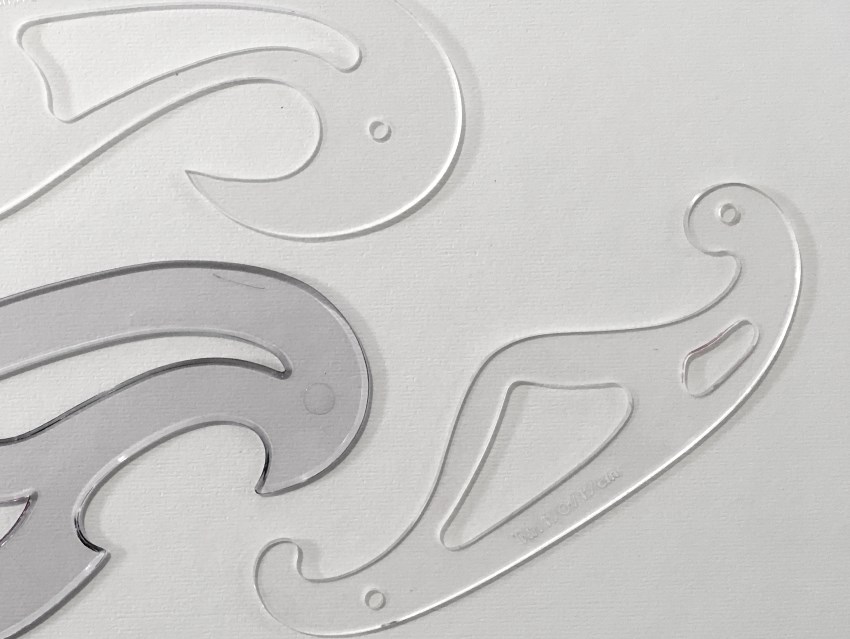 French curve rulers
I use French curve rulers for creating speech balloons when I draw comics.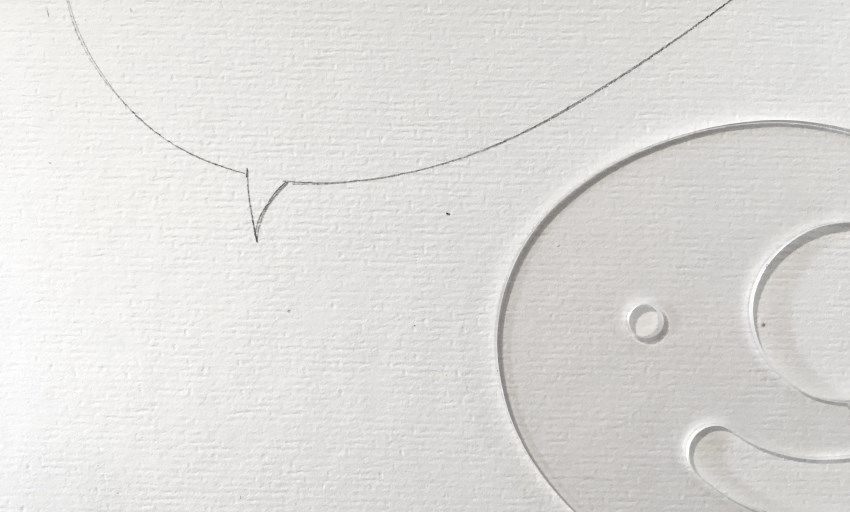 Speech balloon with French curve
Geometric Rulers
Rulers are used for all kind of tasks like creating symbols.
There are rulers with many geometric or unique shapes for special usage.
A ruler with geometric shapes
Blending Stump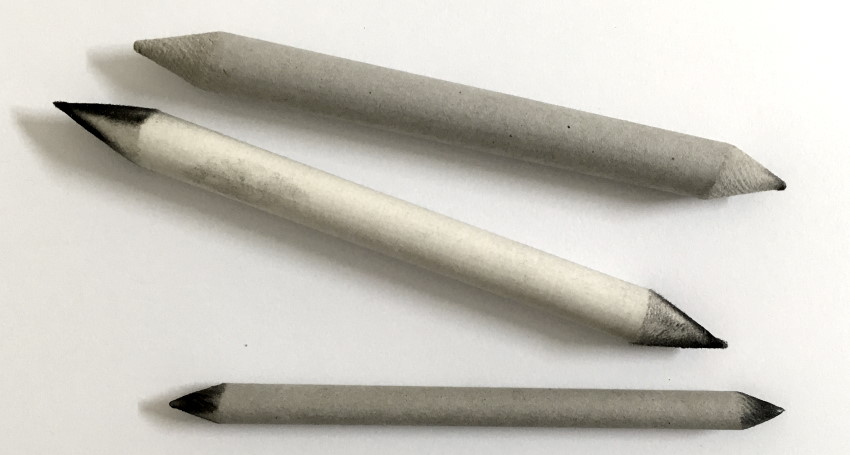 Blending stumps
A blending stump is made of compressed paper and used for mixing or smoothing of charcoal or graphite particles.
It is an excellent tool for smoothing or filling large areas and creating transitions of brightness values.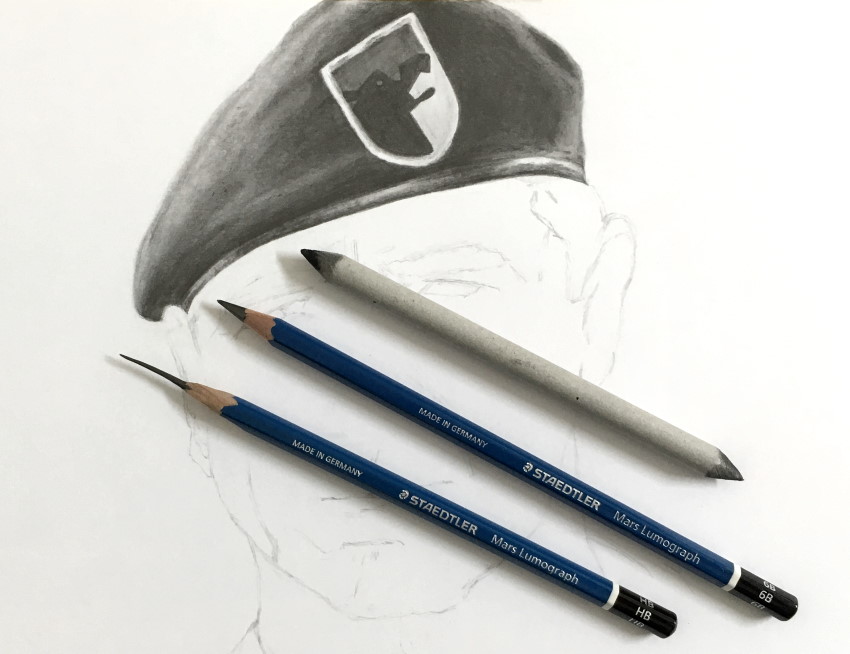 Beret drawing with a blending stump
When a gentle mixing or smoothing is needed, a soft synthetic brush can be used.

Synthetic brush for blending
The combination of quality pencils and little use of a soft brush, to draw the face:
Portrait pencil drawing
Fixative
Pencil drawing is laying particles of graphite or charcoal on paper.
Fixative is a liquid that can be sprayed on dry media artwork like pencil, charcoal or pastel, to preserve it and prevent smudging.
Fixative is toxic and flammable and should be sprayed in a well-ventilated place and kept away from the reach of children.
A thin layer or layers should be sprayed. A larger amount of liquid will cause the paper to wrinkle.
Winsor & Newton fixative
Wrinkles due to fixative
Summary
Pencil drawing is a craft that can be learned and for some artists is a solid basis for their craft.
Creating different brightness values is one of the characteristics of pencil drawing. It is advisable to use several drawing pencils with different lightness or darkness degrees.
Kneaded eraser is also used for drawing and not just for erasing. Due to its flexibility, it can be shaped in many ways to create different textures and effects.
It is recommended to use quality drawing-paper. Fixative can be sprayed on a finished drawing in order to preserve it for future generations.
Where to Go Next?
Now that we have some drawing supplies, it is time to start drawing.
The world is three-dimensional, but our drawing paper is two-dimensional!
To create the 3D illusion, I wrote a guide on how to draw the illusion of depth. It includes 15 proven ways to create depth, and it has MANY examples for you to explore.
*ALL art supplies in this article are owned & used by me.